What makes an upgrade project challenging? For the most part that's the time gap between the source and the destination versions of the system; imagine migrating from something that is 8 years old, add some changes in the data model on top of that – and you'll get a picture of what we have recently done for one of our clients, moving from Siebel v7.8 (SEA repository) to v8.1.1.10 (SIA repository). Regardless, the upgrade has been a success, and this is a story about it.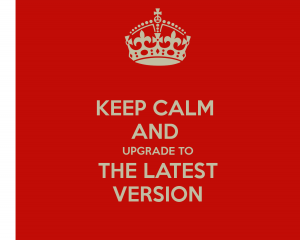 The story began few years ago, when Idea Port Riga and our partner company "cSolutor Oy" in Finland have started working with a new client, offering them some application maintenance services, with a hope to further enrich the relationship with additional projects. The start was really good and smooth.So later on, having gained some well-deserved trust with the new client, we've seen an upgrade initiative emerging. The plan was to do upgrade Siebel from v7.8 to v8.1.1.10; one of the key drivers for the upgrade has been Open UI, introduced by Oracle in December 2012.
Siebel Open UI (OUI) is a standards-based, open architecture client that is supported by all browsers and provides end-user with a modern-looking UI. Siebel Open UI is a great step forward for Siebel in general, and you can find out more in one of our blog posts; but as far as our upgrade project goes, it has successfully been initiated with the following priorities set:
First priority - upgrade Siebel to the new version and verify that the pre-existing functionality also works fine in the new version.
Second priority - verify that Siebel BI publisher integration, Open UI and CRM Desktop vanilla functionality all work properly with the new version as well.

The first priority work stream moved forward with a good speed and didn't generate too many surprises along the way, but the second priority part was a whole different story. Originally, the plan has been to install the newest v8.1.1.11 patch, which would have solved quite a few Open UI related defects. Sadly though, we have soon discovered that this newest patch introduces an integration-related bug for some of the first priority items, so – since it wasn't possible to work around this defect, and since the project couldn't wait for an official fix to come out – the decision has been made to roll back to v8.1.1.10.
As usually, one of the most important parts in a project is the go-live, and this upgrade project wasn't any exception. Go-live took place late in 2013, and luckily for us it was still a few weeks before Christmas, so we had some time for solution stabilization without a huge risk of losing all the Christmas spirit.
The go-live itself took almost the whole weekend, over the course of which the team didn't get much sleep, but managed to fix all the critical issues and avoid rolling back to the old system – on Monday morning the new Siebel version was already in production. And even though the next few days weren't easy either, it feels to be worth it in the end, with the impressive result we've achieved. But what did pose the biggest difficulties for this upgrade?
The issues that the team has experienced during the go-live were both technical and process-related. Mostly the big Siebel version difference was the factor causing problems, but also the fact that the test cases didn't covered all the functionality, so several bugs slipped through unnoticed during the testing.
Open UI was out in the field for only a bit more than half a year when the project started, and most of the defects we've stumbled upon were not easily fixable and did not have a decent workaround that would not be breaking something else… So in the end the bugs were just too many, and the decision has been made to avoid using Open UI on production for now – in favor of a good old ActiveX based UI. Although what we did get was this:
CRM desktop (Outlook integration for Siebel), with some small customizations made by our team
Siebel BI publisher integration; now we are using it in production for a few months already. We have report translations to 12 languages, which are being used in 14 countries, and there are plans to go even further. BI publisher integration felt quite challenging in the beginning and it was great that the team was able to build the necessary product skills rapidly and deliver the solution.
The new version of CRM, able to leverage the newer DB and OS versions. The client appreciated the work done so far and included Open UI in CRM investment strategy, so the plan is to continue working with us in Open UI direction. Some of our other clients already use v8.1.1.11 Open UI in production environment, which is a promising sign for this solution as well!

It has to be said that working with newest functionality that Siebel can offer is most certainly a lot of fun – often you have to build your skills on-the-fly, rather frequently something unexpected would happen, and you wouldn't be able to just "Google it". The Open UI remains to be the biggest change in Siebel for now – and, perhaps, it will be so also for a few years to come. Siebel BI Publisher integration and CRM Desktop have been around for some years already, so not a brand new technology per se, but it was still exciting to finally put them to work with this upgrade. All in all, we've broken a lot of ice, reported many bugs to Oracle and managed to deliver all the most important functionality on time – that's what makes it a success for both the client and the team!

---
| | |
| --- | --- |
| | About the author: Pēteris Priedītis has been working with Siebel CRM since 2011, and he is with Idea Port Riga since late 2012, working as a Siebel developer, consultant and analyst. In order to always provide the best solution he used to communicate a lot with business users, client-side management, My Oracle Support, as well as My Oracle Support Community. |