So you have your Siebel CRM system up and running, a lot of data has already been accumulated, and now the time has come to establish a better control over your business processes? Say, you want to see the overall sales dynamics, find out which of the products sells better, or who in the sales team is your star player? There are two distinct ways how you can accomplish this:
Build a standalone BI solution on top of operational systems. This will certainly require rather sizable development effort investments, and mean longer time till the first analytics report is out.
Alternatively, you can save quite some time and resources by using BI Port for Siebel – a product with pre-defined reports and dashboards that can be setup in a fraction of the time needed to build and roll-out a DWH. BI Port for Siebel will allow you to tap into your CRM data source directly and efficiently, drastically cutting the time until that very first analytics report is finally out.
What is BI Port for Siebel?
BI Port for Siebel is an analytics solution, aimed at displaying and analysis of Siebel CRM operational data. In it we have included a comprehensive set of pre-defined reports, interactive dashboards and reporting subject areas that you can quickly start using to get your operational data analyzed in real time, including (but not limited to):
Sales performance data, e.g. opportunities won and lost, revenue data, pipeline fulfill
Activities, e.g. by client/account, by status, by owner, planned vs. finished
Case management, e.g. service requests, tasks and ticketing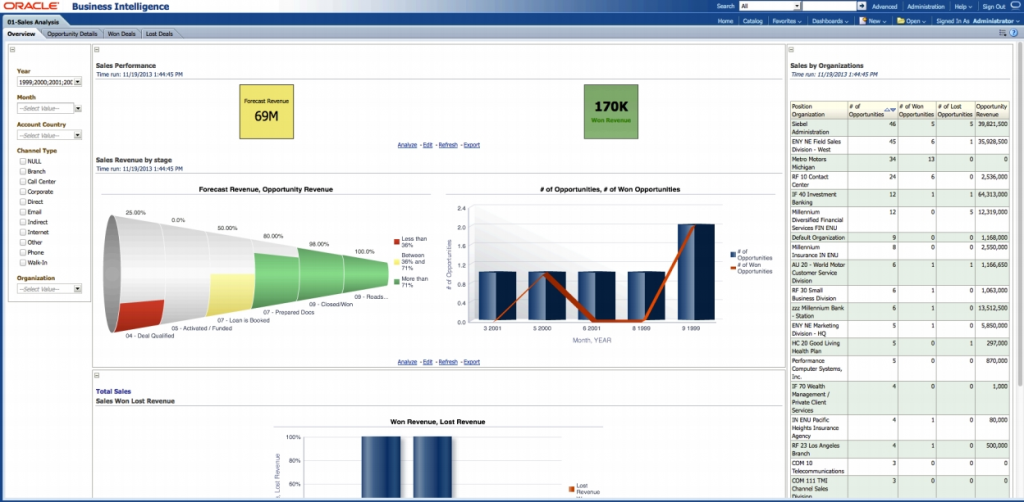 If you need a more detailed analysis, you can also easily build ad-hoc reports, allowing to view your operational data in a variety of slices: by time, by client segments, etc.
How does it work?
There are two BI platforms that BI Port for Siebel works on top of: Oracle BI EE and IBM Cognos Business Intelligence. To get started, you will most certainly need a BI platform in place and the BI Port for Siebel components installed – including repository (containing a pre-defined business model for the Siebel CRM application) and reports, configured to integrate with Siebel CRM – the whole setup and configuration process can typically be done within just a few days.
All of that is something that we'd be more than happy to help you with, so please don't hesitate to get in touch, if you have any questions!
Keep in mind that depending on the BI platform, the whole OBIEE 11g functionality is available, including BI Publisher, agents, scorecards, KPIs, or Cognos BI including Dashboards, Mobile BI and etc. – but if your demands grow with time, BI Port for Siebel can gradually be extended to eventually become a fully-fledged BI/DWH solution; so basically you get the first reports out really fast and keep your options open!
Feel free to get in touch with us in case you are considering a Siebel CRM analytics solution – perhaps, BI Port is the right answer for you!
---
| | |
| --- | --- |
| | About the author: Vladimir Loiterstein is an experienced Business Intelligence and DWH consultant, his prime competence is system analysis, data warehouses design, ETL, data migrations, reports and dashboards developments, as well as SQL performance tuning. Being a founder at Idea Port Riga, he has been with the company since the very beginning in 2007. |