Sometimes it looks like a sales agent have just eaten a bucket of lemons when asked to use a CRM system. When that happens, CRM Desktop comes in: there is no need for special training, because most agents are familiar with Outlook – or a similar application. CRM Desktop allows managing enterprise data in sales agent's native environment – be it Microsoft Outlook or Lotus Notes – and it is a truly offline solution. CRM Desktop was first made for Siebel, and it is now possible to use it with SAP CRM and Salesforce as well.
What is CRM Desktop?
CRM Desktop is a plug-in for Microsoft Outlook aimed at managing Siebel CRM data, such as: Accounts, Contacts, Activities and Opportunities:

With CRM Desktop you maintain your business contacts, tasks and calendar events all in one place and those are easy to synchronize with Siebel CRM. If need be, it is also possible to increase CRM Desktop core functionality (Contacts, Accounts, Activities, Opportunities) with additional Siebel entities like Service Requests, for example.
What does CRM Desktop do for you?
Well, a bunch of good things:
CRM Desktop keeps users from losing important information, while letting them work the way they work best. Sales people typically communicate a lot via e-mail, so now they can easily add their e-mails to opportunities, accounts and add attachments that will appear in Siebel CRM as activities with an "Email – Outbound" type (other types can be selected directly in CRM Desktop). You can organize your daily calendar with as many tasks as you like and choose to share or not to share your activities with Siebel CRM, avoid duplicating your effort and keep up with several calendars:


Your personal contacts, e-mails and calendar events will not be shared with Siebel, unless you select to do so. Sales and marketing teams can keep in touch with a client and both see what activities and opportunities are being offered to him.

CRM Desktop lets you work offline – when the internet connection is bad or unavailable at all. With CRM Desktop you don't need to blame internet connections anymore, just continue working in CRM Desktop offline mode while disconnected. You can synchronize your changes at a comfortable moment, just connect to the Internet and depending on your settings at CRM Desktop the synchronization job will start automaticity – or you can launch it manually, and either way all the changes made in offline mode will be synchronized with Siebel CRM.

CRM Desktop doesn't only increase your productivity, but also increases the quality of your data. There are plenty of ways how you could lose a piece of important information - in e-mails, attachments, quick phone calls, etc. Think about how easy it would be to trace communication and documents using just Microsoft Outlook… now it is possible, and CRM desktop will do the rest for you!


CRM Desktop reports all of the inevitable synchronization conflicts to you, so that you could choose the appropriate resolution approach. CRM Desktop does not recommend more than 10,000 records to be synchronized for a single user, since huge numbers of records can cause significantly longer synchronization times and impact Microsoft Outlook performance negatively. Data filters can be used to prevent such issues:



CRM Desktop works as a plug-in and protects your Siebel CRM data with username/password authentication. All your sensitive Siebel CRM information is kept secure – inaccessible by others who use your computer and Outlook. CRM Desktop uses SOAP (Simple Object Access Protocol) to request metadata, and the communication with Siebel Server can happen either over regular HTTP (Hypertext Transfer Protocol) or HTTPS (Hypertext Transfer Protocol Secure) – for added security.
How to set up CRM Desktop?
The set up starts in Siebel CRM client, on the CRM Desktop administration screen, where you need to publish CRM Desktop metadata file packages. Then there is a special installation for CRM Desktop application that is set up on your workstation, where Microsoft Outlook application is installed. CRM Desktop downloads metadata file packages that are published in Siebel CRM, and will simply use the configuration of these file packages: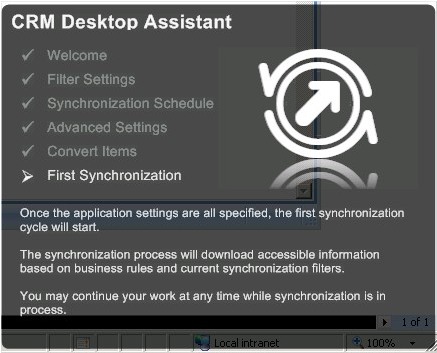 CRM Desktop can have different configurations for different user groups in Siebel CRM. For example, each user group can have a different visibility of Siebel CRM data objects, depending on logged-in user position and on available Siebel view visibility setup – e.g., All, Organization, Sales Rep, or Personal.
CRM desktop can also be configured to replicate custom Siebel CRM UI and business logic to ensure that all the data is available and used properly, according to the business rules defined in your Siebel CRM system.
Any environment requirements to keep in mind?
CRM Desktop is a third-party product, which is available for Siebel starting with version 8.0. Supported operating systems for CRM Desktop are Microsoft Windows XP 32-bit, Microsoft Windows Vista and Microsoft Windows 7, both 32- and 64-bit. CRM Desktop client can be configured to use any of the Siebel application language packs. Note that right-to-left languages, such as Arabic and Hebrew, are supported only starting with Siebel 8.1.1.7 Fix Pack. According to standard Oracle Siebel price list (without discounts) the license price for an application user is 300$, and a price for the software update license and support is approximately 66$ per application user.
Need help with CRM Desktop?
Developers at Idea Port Riga have gained considerable knowledge and quite some positive experience in CRM Desktop customization, upgrades, and roll-outs. Let us know if there's anything we could assist you with!
---
| | |
| --- | --- |
| | About the author: Ginta Rulle started working at Idea Port Riga in 2012. Having been involved in most phases of a Siebel project life cycle – from requirement analysis, system analysis, design, build, test, and up to post-implementation support, she has acquired an impressive technical and functional skill set in Siebel CRM applications area, including Siebel Open UI and CRM Desktop. |